Eric Benjamin Collection
The Eric Benjamin C'73 Collection consists of photographs, documents, and other ephemera collected by Benjamin during his thirty-nine-year tenure as Director of Multicultural Affairs at Sewanee. The collection is the finest and most extensive collection of artifacts that documents African American student life on the mountain. Included in the collection are photographs, scrapbooks, letters, postcards, and notes.
Many of the photographs in the collection are unlabeled. It is our hope that visitors to this digital archive will contribute their knowledge of the people, places, and events documented in the photographs. If you wish to help us with identifications, please write to us at robersonproject@sewanee.edu.
Affectionately known by generations of students as "Mr. B," Eric Benjamin graduated from Sewanee in 1973, among the first African American students to earn a bachelor's degree at this institution. An accomplished student and respected campus leader, Benjamin served as President of the Honor Council, the first Black student to hold that important position.
Benjamin returned to Sewanee in 1981 to serve as the first Director of Multicultural Affairs, which for four decades has helped students of color make their way and succeed at Sewanee. His door always was open for students, and he and his wife, Michelle Benjamin (Mrs. B), made their home reunion central for returning students on Homecoming weekends. He also brought many jazz greats to Sewanee for performances at the Multicultural Center.
Benjamin also co-founded the Sewanee Summer Scholars Program, a summer bridge program at Sewanee for high school students to build their skills in math, science, personal development, and writing in preparation for college. He also was one of the principal members of the Consortium for High Achievement and Success, an organization that focused on the success of African American and Latino males on college campuses.
We at the Roberson Project are grateful to "Mr. and Mrs. B," who have generously shared this extensive collection of photos and memorabilia to insure that this remarkable record of Black student life at Sewanee becomes a permanent addition to the University's historical collections and resources.
Eric Benjamin Collection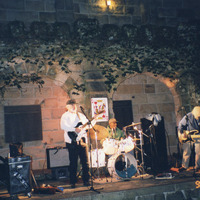 Eric Benjamin Collection
Eric Benjamin Collection By Year